An unofficial Meta Quest 3 unboxing video was posted anonymously to Reddit.
This is becoming somewhat of a tradition now for Meta's headsets. Last year Quest Pro's design and packaging leaked a month before launch in a similar unofficial unboxing video posted by a hotel worker who said he found one.
The material and design of the Quest 3 packaging shown in the video looks very similar to Quest 2's packaging. But the box is noticeably much smaller, made possible by the headset's slimmer design and the new Touch Plus controllers lacking rings.
Only the headset, controllers, and a small box (likely containing AA batteries and leaflets) are visible, which suggests the unannounced charging dock recently approved by the FCC will be sold separately, not included.
Meta officially announced Quest 3 in early June, but it hasn't yet confirmed all the headsets specs and features, such as the exact resolution, refresh rate, RAM, or the higher storage tier.
What it has officially stated is the visor is 40% thinner thanks to pancake lenses, the GPU is more than twice as powerful, and it has dual color cameras and a depth sensor for mixed reality with scene understanding. The base model has 128GB storage and will be priced at $500.
The instructional white cardboard seen attached to the headset in the unboxing may reveal another feature, however.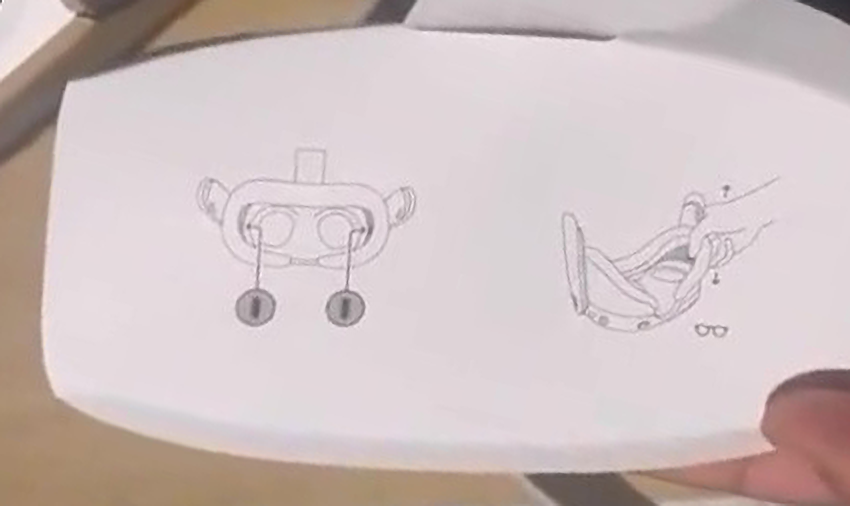 It seems to depict the ability to adjust the depth of the facial interface to move the lenses further away from your eyes. This is also called eye relief adjustment, and it's also present on Quest Pro, Valve Index, HTC Vive, and both PlayStation VR headsets.
Extending the depth allows glasses to fit between your eyes and the lenses. Quest 2 instead required removing the facial interface and adding an included "glasses spacer" underneath it.
Lens depth adjustment was actually spotted in the Quest firmware back in February:
Meta hasn't yet revealed the exact launch date of Quest 3, but the company launched Quest 2 and Quest Pro at its yearly Connect conference and this year it's scheduled for September 27.
For a summary of everything announced and discovered about Quest 3 so far, read our full roundup here: