It's been almost four years since we first reviewed Pistol Whip and a lot has changed. Here's our 2023 review of the game, assessing all the new content and features added since release.
When Cloudhead Games released its innovative rhythmic shooter Pistol Whip in 2019, we were pretty definitive in our review. We gave it a perfect rating of 5 Stars, but since then, it's only gone from strength to strength. There's been a plethora of new – and entirely free – content that has cemented its position as one of the best games available on almost every major VR headset.
Previously On…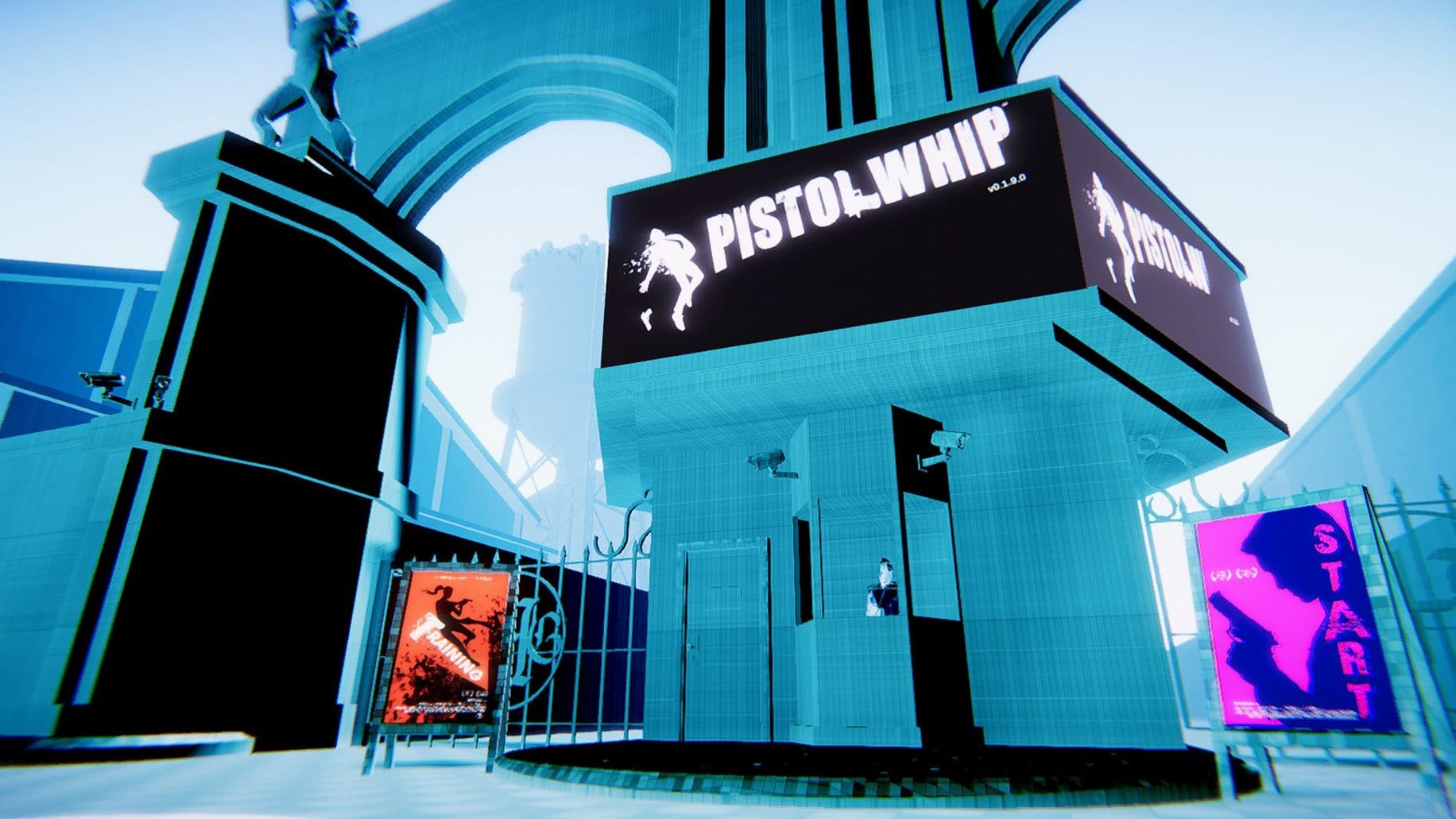 If you're not familiar with Pistol Whip, we recommend going back to our original review from 2019 for a better overview of the basics. However, here's a snippet that gives you the gist:
Rather than slashing cubes or simply avoiding bullets in slow-motion, every song (or scene) in Pistol Whip moves you through the level at a steady pace. Enemies pop out at pre-determined locations that you then must shoot or punch to the beat of the music to get the highest score possible.
Following in the footsteps of the VR rhythm game progenitor Beat Saber, Pistol Whip took a successful formula and gave it a cinematic, action-based twist served with a dash of Superhot and a pinch of John Wick.
The game proudly wore its influences on a sleeve that Cloudhead has since fashioned into an entirely original garment of its own. Compared to launch, Pistol Whip now features more content, extra functionality and so many ways to play that it's hard to keep count.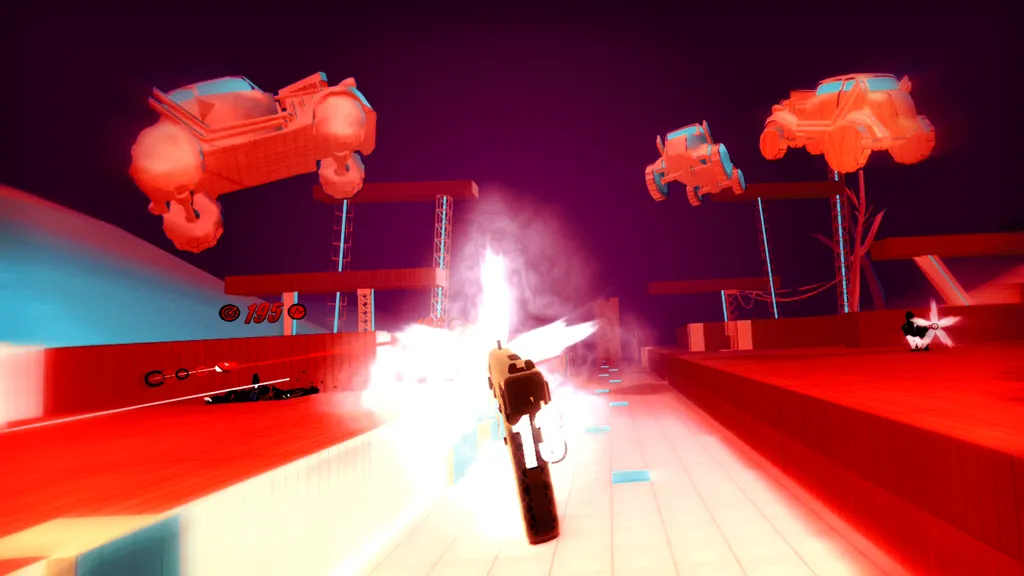 New scenes feature references to sci-fi and action classics like Mad Max, Blade Runner, Terminator, Ninja Gaiden and more. In fact, there's so many loving homages to pop culture that they now transcend being just a point of comparison ("Beat Saber and Superhot meets John Wick and the Matrix") and instead have become a core component of the game's identity ("A VR rhythm shooter with countless references to classic action movies").  
The team's passion – for the game itself and the media it references – is evident in every single one of Pistol's Whips polished nooks and crannies.
What's New?
Pistol Whip launched with just 10 tracks available to play (referred to as 'scenes' in-game) and this relatively small offering was one of the few hesitations we mentioned in our original review. We also hoped that custom song support might be added down the line as well, which perhaps could spawn an enormous library of community-made content akin to the situation with Beat Saber.
As of writing, Pistol Whip now has a total of 34 official scenes available in-game (with another arriving soon and more confirmed for 2024), as well as an ever-evolving Contracts system, several different weapons, a local pass-the-headset co-op-mode, two themed mini-campaigns, and an entirely new 'Styles' system that overhauls and expands the game's original Modifiers. Oh, and there's the recent launch of Pistol Mix, a modding tool that lets the players build custom scenes on PC to be played in-game by the community.
Cloudhead has demonstrated an exhaustive commitment to adding new content to Pistol Whip. Even better, all of this new content – every single bit – has been entirely free for owners of the game.
There was a point where Cloudhead considered going the route of paid DLC tracks and new content. However, the studio instead decided to raise the price of the base game, ensuring that all new content could be provided to players as part of continual free updates. It's bold but welcome approach, bucking the trend set by many other similar VR releases and rewarding both new players and those who have been around since day one.  
New Scenes & Campaigns
The vast majority of the 30+ scenes are available immediately to players in the game's main mode, Arcade, after completing the tutorial. The only scenes that aren't immediately available are the ones tied to the game's two mini-campaigns – 2089 and Smoke and Thunder.
While listed under a 'Campaign' tab on the main menu, neither of these are fully-fledged campaigns that are meant to go head-to-head with other story-driven VR releases. Instead, they're well-crafted collections of five scenes, which tell a basic story via brief 2D storyboards with narrated voice-overs that play out before each scene.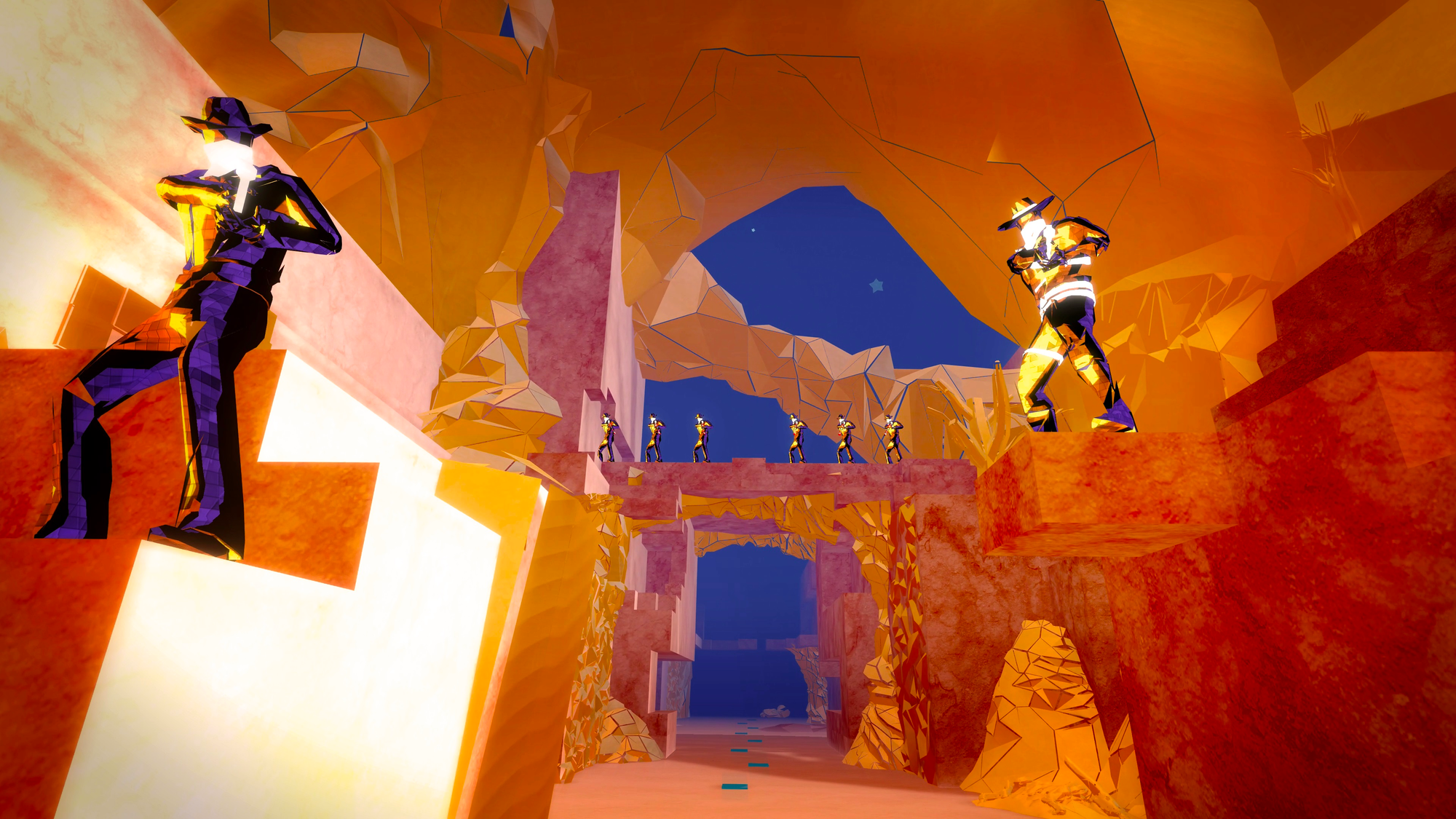 The scenes themselves introduce new themed environments and exciting mechanics that mix up the classic Pistol Whip formula. 2089 is a Cyberpunk, Terminator and Blade Runner-inspired neon rush, while Smoke and Thunder takes things to the wild west with mounted cowboys and swinging saloon doors.
The campaigns are entertaining and constantly force you to adjust how you play – one scene might require you to use melee pistol whip attacks only, for example, while another introduces a new weapon or pits you against a new enemy type or themed boss encounter.
However, what's most fun about these campaigns is the additions and opportunities they bring to other modes. Once you've completed a scene in each respective campaign, it becomes playable in Arcade mode with any combination of weapons and modifiers. Likewise, modifiers and weapons from the campaigns themselves are also made available to use elsewhere in Arcade, ensuring you have huge variety in how you play – and replay – different scenes.
Play Your Way
This brings us to one of the biggest post-launch changes made to Pistol Whip: Styles. Launched in 2021, Styles was conceived as an overhaul to the modifier system, letting you pick from a series of modifiers, weapons and scenes. You can then save your selections as a favorite style, which you can come back to and access easily in the future.
This came hand-in-hand with a new leaderboard system – instead of all modifier and weapon combos competing on the same leaderboard for each scene, every single combination of scene, modifier and weapon now has its own individual leaderboard. This prevents leaderboards from being dominated by players who opt for the higher-scoring, harder modifiers, and instead lets everyone compete in their own way, on the same playing fields. According to Cloudhead, the end result is literally millions of unique leaderboards that cover all the different possible combinations.
Players can now play the 30+ scenes with several different weapons: your standard pistol, dual wield, a rapid-fire blaster, a western revolver, a crossboy, knuckle dusters, a double-barrelled 'Boomstick' shotgun and more. Once you've chosen a weapon, there's endless combination of modifiers to apply, such as nobeat (score determined by accuracy), rhythmic (score only determined by timing), headhunter (headshots only), reckless (no armor), bullet hell (lots of bullets) and many many more.
You can essentially create whatever version of the game you want to play. If you'd rather not choose, Cloudhead has also included a huge list of pre-made styles for you to explore and apply to any scene in Arcade mode.
On the aesthetics side, you can also completely customise the look of your preferred weapon, with loads of colors, sounds and wraps options to choose from. It's a simply staggering amount of choice.
For those seeking an extra challenge, there's also the Contracts mode, which offers unique combinations of scenes and modifiers that rotate daily, weekly and monthly. Daily contracts consist of just one scene with added modifiers, whereas weekly and monthly contracts compile three and five scenes respectively, to be completed in succession. In contrast to the unlimited choices in Arcade mode, Contracts offers veteran players a new challenge every time they return to the game, without the need to set parameters or make any decisions yourself.
Mix It Up
Earlier this year, Cloudhead Games also launched Pistol Mix, a modding tool for PC that allows players to create custom Pistol Whip scenes, which can then be uploaded for the rest of the community to play in-game. Players on Quest, Pico and PC VR headsets can easily browse, download and play custom scenes straight from the main menu in-game. Unfortunately, custom scenes aren't currently accessible on PSVR headsets.
While Pistol Mix is a fantastic feature (both as a creation tool and as a way to play custom levels), it may have arrived a little too late. The current offering of custom scenes is generally far lower in quality than any of the game's official content. Some are entertaining, but in more of a gimmicky way than anything substantial. In any case, by nature it's now out of Cloudhead's hands. The quality of custom content over time will hinge on whether there's continued community interest in creating and playing new levels. We'll have to wait and see.
So What's Missing?
While Pistol Whip has had a staggering line-up of post-launch content, there's still a few things missing and some areas for improvement.
The most glaring omission is any form of cross-platform progression. The team at Cloudhead is clearly committed to bringing Pistol Whip to new platforms as they emerge – the game has been released on almost every new major headset since 2019. However, players who upgraded headsets in the four years since launch might have found themselves also switching platforms – a PC VR player in 2019 might have gone to Quest in 2020, for example, only to upgrade to PSVR 2 earlier this year.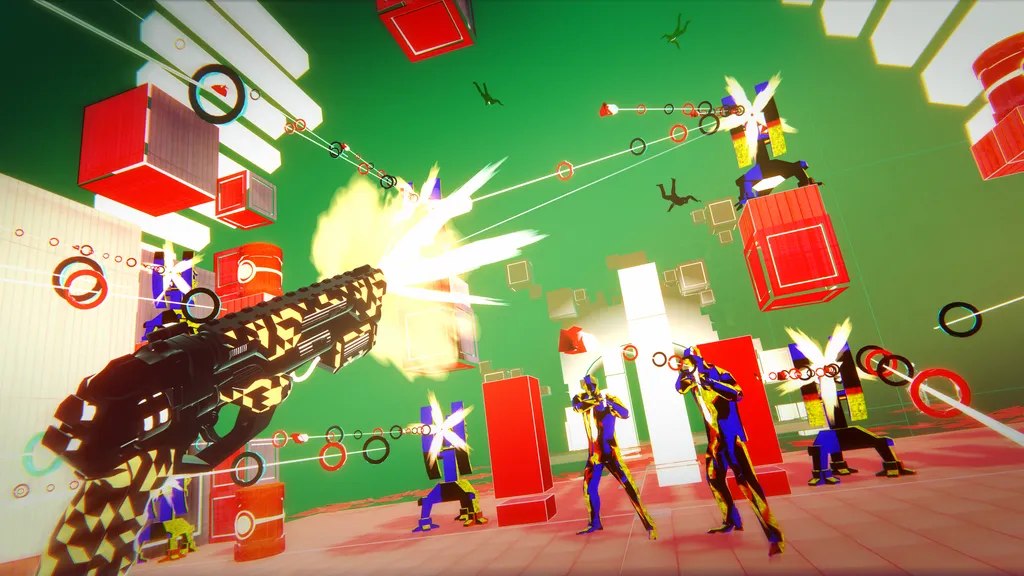 Pistol Whip players who upgrade headsets and, in doing so, inadvertently switch platforms face two problems: they will likely need to re-purchase a second copy of Pistol Whip on the new platform, and also lose all progression they made on the platform they're leaving behind.
The former problem is something that Cloudhead can't control – Meta and Sony are in direct competition and want to profit off game sales, so there's understandably no way to transfer a copy of a game on Quest over to PSVR 2. However, the latter cross-platform progression problem is one that likely could be addressed in one way or another. The VR market shifts rapidly and headset upgrades across competing platforms are not uncommon – if Pistol Whip wants to ensure longevity, implementing cross-platform progression is a must.
Pistol Whip has also remained committed to creating wholly new stories and using original music in all its scenes and new content.  However, it feels like the time might be nigh for Cloudhead to explore slightly more adventurous options. Games like Beat Saber, Synth Riders and Walkabout Mini Golf have all leveraged existing IP and popular high-profile music tracks to expand their reach and appeal to new audiences. Pistol Whip might benefit from exploring similar high-profile partnerships, allowing for more direct musical or thematic tie-ins with the pop culture touchstones it admires.
The Road Ahead
Ultimately, Pistol Whip is in a better place than ever. Cloudhead Games has gone above and beyond in its post-launch support of Pistol Whip, cementing its position in the VR hall of fame. It's rare that live service games are able to continually serve its players this well, let alone do so without asking for a single cent beyond the price of admission.
With two new collections of scenes already confirmed for 2024, that looks like a trend that's set to continue. Ultimately, Pistol Whip is in a better place than ever. If you own a VR headset and you haven't picked up Pistol Whip yet, what are you waiting for?
---
You can read our original review of Pistol Whip from 2019 below or check out more details about the game's 2024 roadmap here.