Back in August on the Gamescom show floor, I happened to stumble across a small booth for a then-unannounced game called Big Shots from Belgium-based studio AlterEyes.
I remembered seeing a similar booth for Big Shots exactly one year earlier at Gamescom 2022. I'd run out of time to check it out last year, so this year I didn't delay. After introducing myself to the developers at AlterEyes, they eagerly got me into a demo on PSVR 2.
I was pleased with what I found: an engaging mech game that takes all the right cues from the roguelike and wave shooter genres, while still putting its own spin on things and supporting both solo and co-op modes of play.
When I took the headset off, I was greeted to the sight of a decent crowd of developers and onlookers gathered around the booth, who had been watching me complete a run on the TV nearby. I had lasted a few consecutive waves – apparently close to the entire demo offering. It says something that the demo was as engaging to watch as it was to play.
Three months later, AlterEyes is ready to present Big Shots to the wider world. It's coming to all major VR headsets in Q1 2024, which means PSVR 2, SteamVR, Pico and Quest via App Lab. Though it will definitely come to App Lab first, AlterEyes says it's also working on a Quest main store release, but doesn't have any further details to share on that front at the moment.
You can check out the announcement trailer above, which gives you a good sense of the tone and the comic-inspired, cel-shaded visuals. While not an uncommon visual style in VR games, AlterEyes has taken it a bit further with fun comic-like onomatopoeic visuals displayed for sound effects.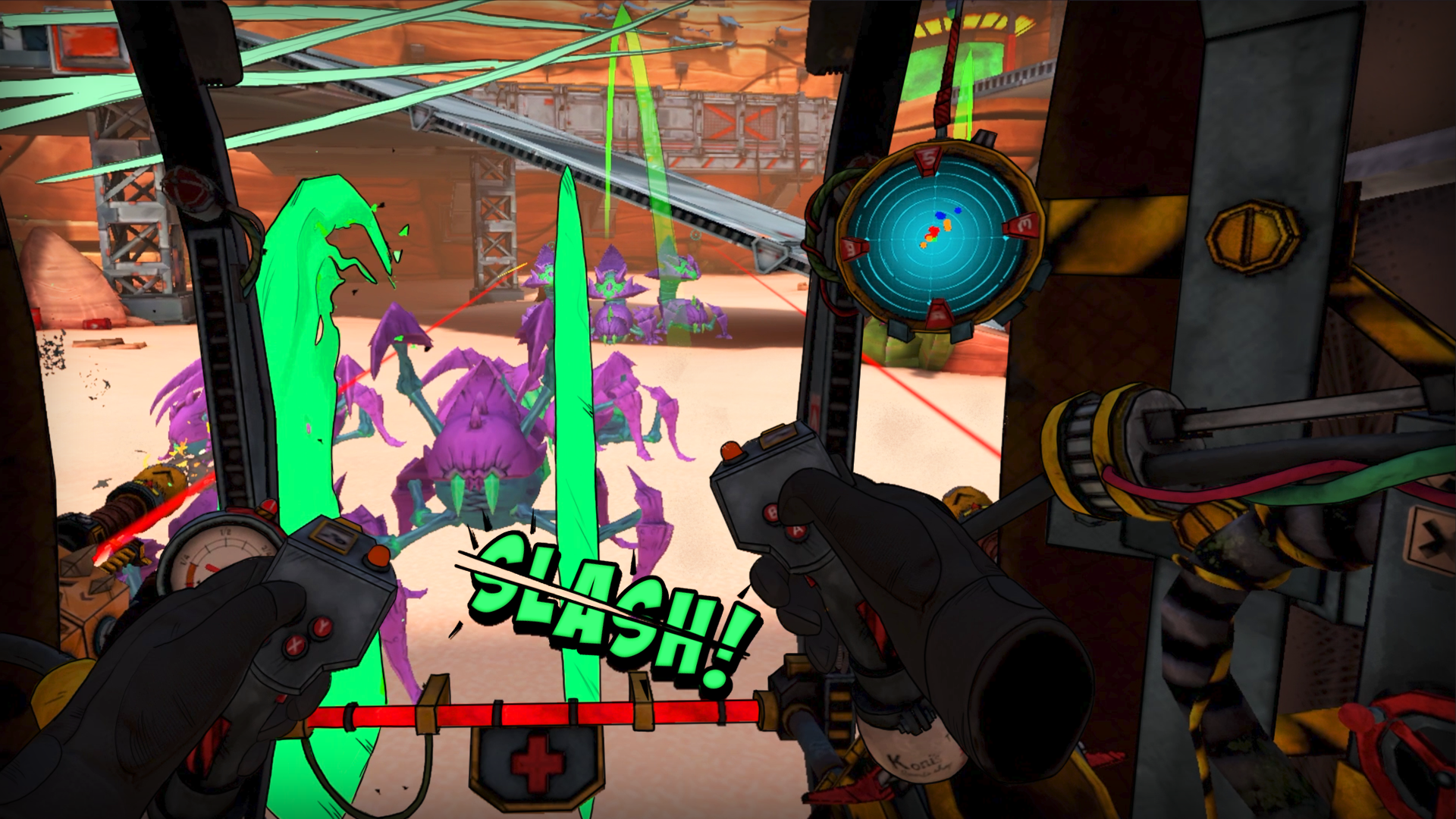 In terms of moment-to-moment gameplay, Big Shots' wider structure borrows from the roguelike genre. That means you'll be completing runs that comprise of smaller individual levels, with opportunities to upgrade your mech, weapons and equipment between waves.
The levels themselves take on a wave shooter format, but don't tie you down to one place. From within the mech, you'll be able to walk, rotate and short-hop jetpack around the environment, managing you position as swarms of bug enemies descend on the map from all sides and angles.
Despite the smooth locomotion, most players should be able to remain fairly comfortable during the game – as with titles like Virtual Virtual Reality 2, the mech structure acts as a sort of invisible, hidden-design vignette that helps reduce motion sickness without an immersion-breaking black border.
There's plenty of adjustable options on the comfort front as well, with plenty of menus and options all accessible from within the mech itself, across various in-universe screens.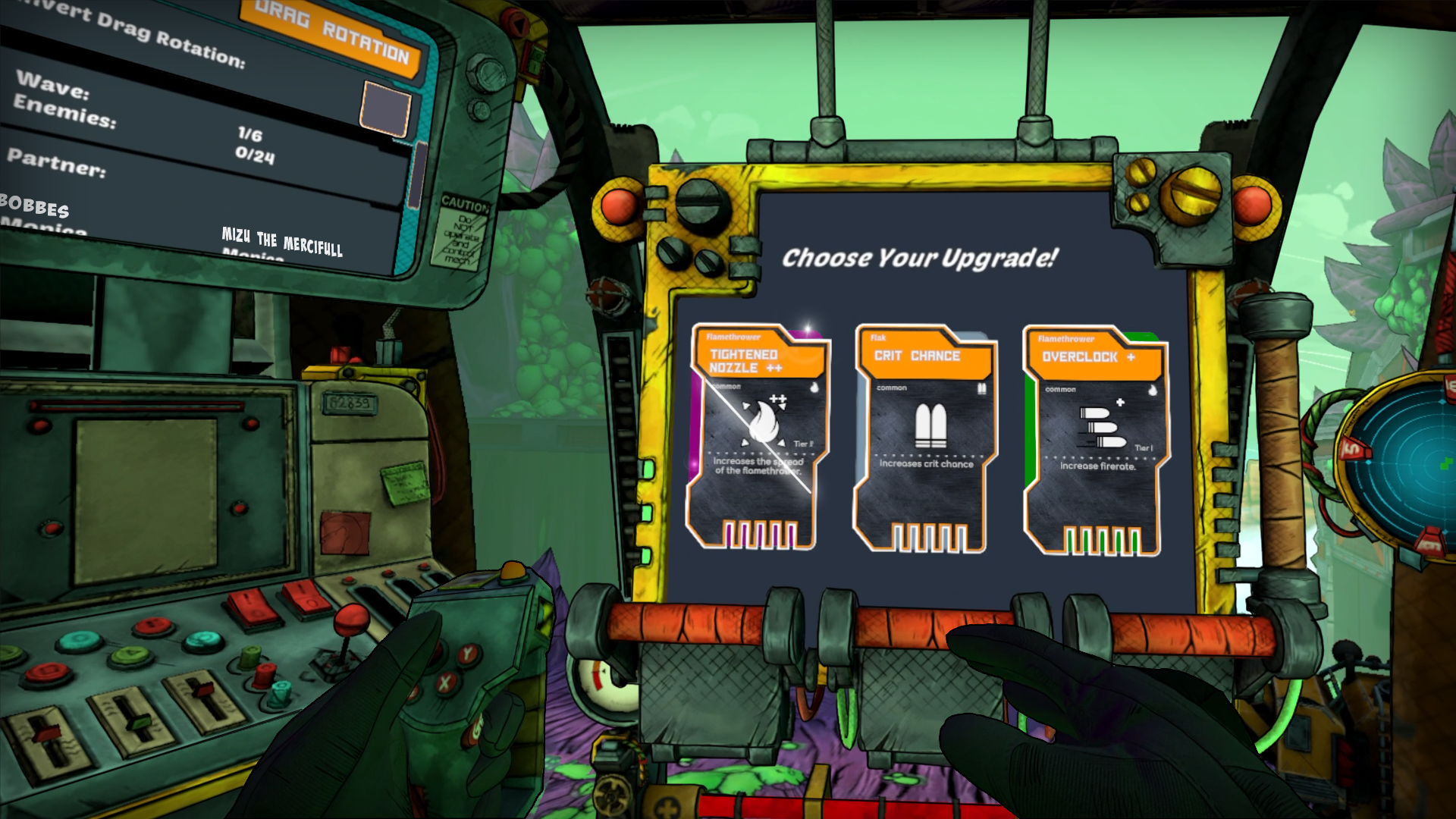 While mech movement is handled by controller buttons and thumbsticks, you'll also use the grip button to grab onto two handles in the cockpit that control the larger arms and machinery on the outside. This lets you physically twist, rotate and move you controllers to direct your aim to shoot down bugs, while simultaneously repositioning yourself based on data from the in-mech map on your side.
It's clear that Big Shots is a game committed to keeping everything as immersive as possible. Almost everything is handled within the mech itself – it's an entirely immersive, in-universe implementation. Comfort options, movement, navigation and menus are all controlled or displayed around you in the cockpit's pilot seat. Even weapon upgrades between waves appear via panels that drop down in front of you between each wave, designed as if part of the cockpit themselves.
AlterEyes matches this considered design with gameplay that is both engaging and challenging. There's a lot of things to manage at once, which takes a little getting used to. Once you've got the controls down, however, it's a thrill to pilot your mech around the rocky environments while gunning down bugs.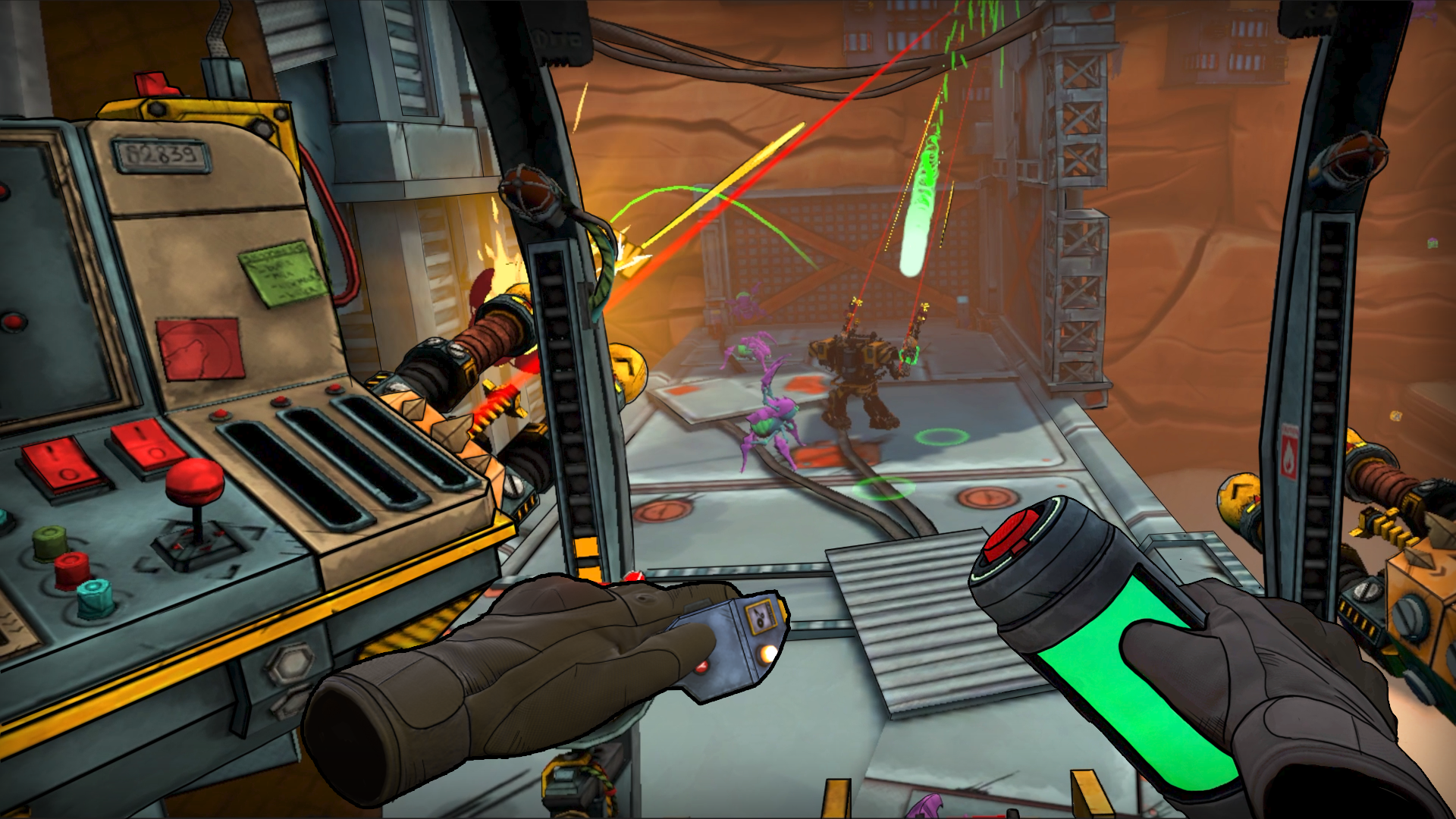 Big Shots has been designed as a co-operative experience, but I played my demo entirely solo with an AI mech partner helping me out. Despite that, nothing felt watered down or missing – in fact, I forgot that it was a co-op game until after I took the headset off.
That, of course, then warrants the disclaimer that I've yet to try the game with proper two-player co-op mode. That said, the foundation laid in my solo experience bodes well for an experience that's elevated when playing with friends. The experience will support cross-platform play at launch too, which is great news.
Big Shots will land on all major VR headsets in Q1 2024.