Which Quest 2 VR games are being upgraded for Quest 3? Here's what you need to know.
As confirmed during Connect 2023, we learned that Quest 3 won't launch with exclusive games but Meta is emphasizing a cross-generation transition between Quest 2 and Quest 3. It promised "100+ new and upgraded titles" across both headsets and over 50 of those are new games, while existing games will receive upgrades and mixed reality features.
MR updates will be available across Quest 2 and Quest Pro, but you're probably curious to know more about the visual enhancements games are receiving on Quest 3. Beyond backwards compatibility improvements, anyway. That's where our list is focused and we're mainly looking at games currently available on Quest 2, ruling out big upcoming games like Assassin's Creed Nexus or Stranger Things VR.
We'll update this list as more Quest 3 comparison footage comes in. If you're a developer or publisher and we've missed your game, please let us know. Otherwise, here's a list of games receiving visual upgrades on Quest 3.
---
Drop Dead: Dual Strike
Developer Soul Assembly confirms Quest 1 launch title Drop Dead: Dual Strike is receiving a Quest 3 upgrade, releasing this comparison video. This year's sequel, Drop Dead: The Cabin, will also receive visual upgrades on Quest 3 alongside its upcoming MR mode, Home Invasion.
---
Espire 2
Espire 2 will receive mixed reality missions in a free update on October 10. Alongside these new missions, Digital Lode is adding updated visuals for Quest 3 players and you can see that in action above.
---
GOLF+
Currently available on Quest 2, GOLF+ CEO and founder Ryan Engle recently shared how the golfing sim compares on Quest 3. A short video showcased clear improvements on Meta's upcoming headset with upgraded lighting, textures and shadows. The Quest 3 update drops on October 12.
---
Guardians Frontline
Released last March, Guardians Frontline is an FPS and RTS hybrid reminiscent of Halo and Starcraft from VirtualAge Games. On Quest 3, it's receiving visual enhancements that brings it considerably closer to the PC VR edition.
---
Hubris
Previously praised as a visual powerhouse on PC VR, Hubris on Quest 3 adds significant improvements. Developer Cyborn states the screen resolution has been upgraded from "sometimes 980×1152 to 2064×2208 per eye" with increased texture quality, foliage density and increased level of detail.
---
Red Matter 2
Vertical Robot continues pushing the limits of each headset through Red Matter 2, and the Quest 3 edition is no exception. Promised changes include increased rendering resolution, frame rate adaptability and dynamic shadows, alongside "console quality" shadow filtering and 4K textures.
---
The Walking Dead: Saints and Sinners
The Walking Dead: Saints & Sinners is receiving an enhanced edition on Quest 3 but we didn't get a closer look until now. While a specific release date remains unknown, you can watch the direct comparison footage from Connect 2023 above.
---
Vermillion
We've only had a brief look so far but painting app Vermillion will receive visual upgrades on Quest 3. Developer Thomas van den Berge states it matches the PC VR version's canvas resolution of 2048×2048, doubling what Quest 2 can achieve. Further enhancements are being made thanks to Qualcomm's Super Resolution tech, which you can see in action on Quest 2 here.
---
Zenith: The Last City

Developed by Ramen VR, Zenith: The Last City dropped Quest 1 support last month but the VR MMORPG is now receiving a notable update for Quest 3. That's available on October 10.
---
Other Confirmed Quest 3 Upgrades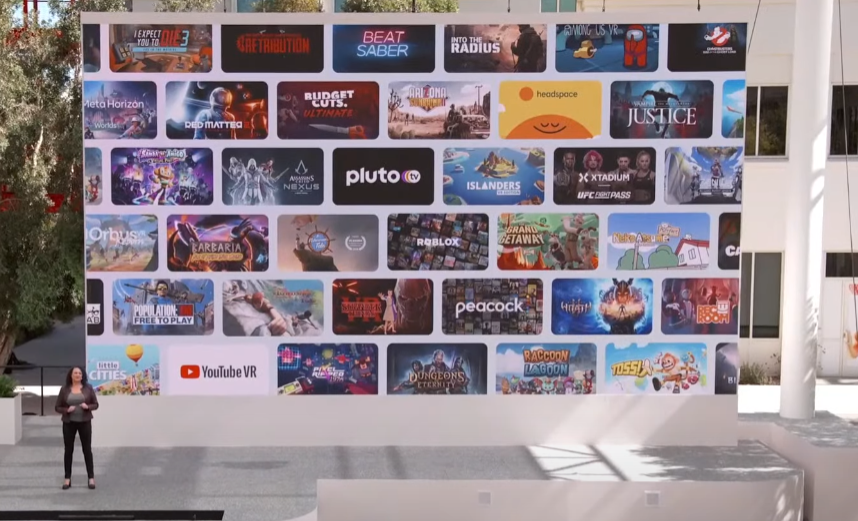 It doesn't end there with Quest 3 upgrades for previously released games, though some of these we've yet to see in action. Fast Travel Games revealed planned upgrades for Apex Construct and Broken Edge (MR footage), while we noticed a noticeably sharper resolution in our Dungeons of Eternity review. More confirmations will likely follow soon.
Other titles seen during Meta Connect's talk about upgraded games (1:54:54 and 2:03:42) are: Among Us VR, A Township Tale, Barbaria, Blade & Sorcery: Nomad, Budget Cuts Ultimate, Bonelab, Call of the Sea, FitXR, Gods of Gravity, Into The Radius, Islanders VR, Job Simulator, OrbusVR: Reborn, Pixel Ripped 1978, Population: One, Raccoon Lagoon, Saints & Sinners – Chapter 2, Toss!, We Are One, Windlands 2.
---
Keen to know more about how the full Quest 3 specs compare to other VR headsets? Check out our comparison below: