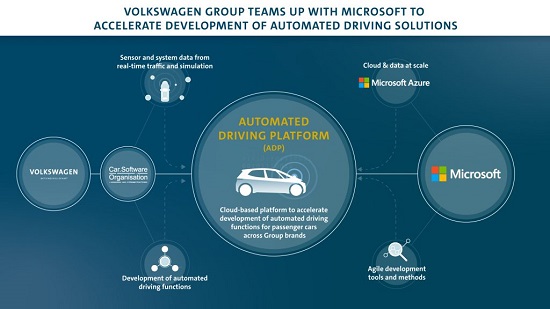 By John P. Desmond, AI Trends Editor 
Volkswagen Group's collaboration with Microsoft to build a cloud-based Automated Driving Platform (ADP), a collaboration dating to 2018, reached a higher level of urgency last week.   
"This is the next evolution of our foundational work with the Volkswagen Group to enhance their transformation as a software-driven mobility provider," stated Scott Guthrie, executive vice president, Cloud + AI at Microsoft, in a press release. Microsoft plans to rely on its Azure cloud service to support the effort.  
"We are building the Automated Driving Platform with Microsoft to simplify our developers' work through one scalable and data-based engineering environment," stated Dirk Hilgenberg, CEO of the Car.Software Organization, formed in 2020 as an independent business unit of Volkswagen. The mission was to bring car software development in-house, instead of getting most of it from partners. "By combining our comprehensive expertise in the development of connected driving solutions with Microsoft's cloud and software engineering know-how, we will accelerate the delivery of safe and comfortable mobility services," Hilgenberg stated.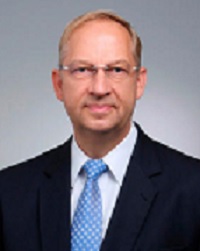 Hilgenberg replaced Christian Senger as head of Car.Software Organization in July 2020. Groupwide software development was moved from the Wolfsburg headquarters to Ingolstadt, where the Audi brand is based, according to an account in AutomotiveNewsEurope. The move was spurred by concern about software issues with the ID3 full-electric, eighth-generation Golf, VW's bestseller in Europe, reported the German business daily newspaper Handelsblatt.  
Building the ADP requires large-scale computational capabilities. Petabytes of data from road and weather conditions to obstacle detection and driver behavior need to be managed every day for the training, simulation, and validation of AD functions. Machine learning algorithms that learn from billions of real and simulated miles driven are key to connected driving experiences.  
Car.Software Organization plans to address these challenges with Microsoft by leveraging the experience from miles driven through a single database comprising real traffic data from the Group's vehicles, as well as simulation data. The compute, data and machine learning services of Azure, as well as Microsoft's expertise in agile software development, will combine to make  one development environment for Car.Software Organization's developers globally. The companies will start working on ADP immediately and are looking to continuously expand the functional scope of the development platform.  
Volkswagen's Goal to Have 60% of Auto Software Developed In-House 
By 2025, the Volkswagen Group plans to invest around $32.7 billion in digitalization, and increase the proportion of in-house developed software in the car to 60% from 10% today. Plans are to incorporate the software into future models of all Volkswagen Group's brands.   
The Volkswagen Automotive Cloud (VW.AC) engineering team, based in Seattle, has enabled data to be exchanged between the vehicles and the cloud through Azure edge services. The cloud connectivity is also enabling Volkswagen to deliver vehicle updates and new features independently of the vehicle hardware to continuously improve the customer experience, according to the press release.   
Tesla, ranked the world's leading electric car manufacturer, started downloading software updates to its Model S in 2015, according to an account in The Wall Street Journal. Tesla put its first car into production in 2009. Tesla had accumulated 3.3 billion miles of Autopilot experience as of April 2020, according to Lex Fridman, an AI Researcher at MIT who tracks Tesla mileage experience as part of his work. He projected Tesla Autopilot miles to hit 5.1 billion in January 2021.  
The first VW.AC connected test fleets are expected to hit the road in 2021. Production rollout is planned for 2022. The Car.Software Organization will integrate ADP and VW.AC as the software is developed. With VW.AC, the functions developed on top of ADP can be tested, deployed and operated across the Group's vehicle fleet.  
Some 4,000 engineers and developers around the world are building a uniform software platform for all brands of Volkswagen Group, which includes a unified architecture, an operating system and the AC. The new software platform will first come to play at the end of 2024.  
The Car.Software Organization operates in software competence centers in Wolfsburg, Ingolstadt, the area of Stuttgart, Berlin, and Munich, as well as Seattle.  
In a recent interview with Reuters, Hilgenberg referred to plans to update the software on its cars via connection to the Microsoft Azure cloud. "Over-the-air updates are paramount," he stated. This functionality needs to be there. If you can't do it, you will lose ground."  
Guthrie of Microsoft, also interviewed by Reuters, compared the evolution in auto software to that of smartphones. He stated, "For our phones 15 or 20 years ago, when you bought it, it pretty much never changed. Now, we expected every week or every couple of days that, silently, there are new features," Guthrie stated. "That ability to start to program the vehicle in richer and richer ways, and in a safe way, transforms how the experience works."  
The first wave of VW electric vehicles will use the company's Modular Electric Propulsion Platform software, according to a June 2020 account in RoadShow/cnet.  The Audi– and Porsche-developed Premium Platform Electric was expected to come online around 2022. After a transitional period, the new VW.OS rollout was expected around 2025.  
Read the source articles and information in a Microsoft press release, in AutomotiveNewsEurope, in The Wall Street Journal, on the site of Lex Fridman, from Reuters and in RoadShow/cnet.